On 3 June we celebrate the World Bicycle Day and everyday more people are choosing the bike to travel and reach different places in their cities or towns.
Tania Ferrario, Instructional Designer at MediaTouch and a bike lover, tells us what does it mean to choose this sustainable transport to reach the workplace (when we will be able to go back there!).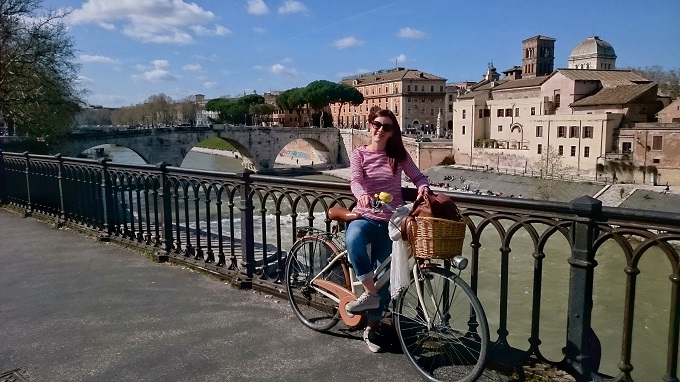 If you are among those who have not yet chosen the bicycle as a means of transport to reach the office, here there are some myths to dispel and some solutions to the most popular excuses for not choosing the bike!
1) I'm afraid of cars
Right observation: we live in big cities full of cars, motorcycles, buses, smog, crossroads and very few cycle paths.
However, it is enough to respect the Highway Code, pay a little more attention to the others, and take some small measures to increase our protection and visibility: helmet, front and rear lights, a nice ringing bell … And off you go!
2) But today is raining…
Someone said: "there is no bad weather, only good clothes".
Exactly! If we are afraid of arriving at the office still dripping or cold, just bring with you: a k-way to protect yourself from the wind or a raincoat for light rain or a nice large poncho in case of flood!
Nothing can stop a cyclist … But watch out for puddles!
3) Where should I put my lunch? Tablet? Spare clothes?
Who knows more than a woman the million things we love to carry in our bags? And if you consider the laptop, the spare clothes for the soccer match after work and the snacks for the office, it takes a bit of organization… And space! Nowadays, you can find different accessories for the bike and for our personal items: baskets of any kind, comfortable and functional backpacks and side bags. If properly arranged they also give us more stability… So, no more limits to our luggage!
4) Ok, but it takes a long time to reach the office
The average speed of a cyclist is much lower than a car… But only if you don't live in a busy city and if you don't move between columns of cars at rush hour! Speeding through congested traffic, working out for free, will give you great satisfaction, a beautiful smile and even some weight loss!
Tania Ferrario has been Instructional Designer at MediaTouch since 2010. She works with MT clients like Kiko, Intercultura and Sidel. She's passionate about trekking, biking, photography and clown therapy. She loves cats and you could find her enjoying the Valtellina area in her free time.