MediaTouch presents Amanote: the revolution of note taking
14 September 2022 / 11:00 am

-

11:45 am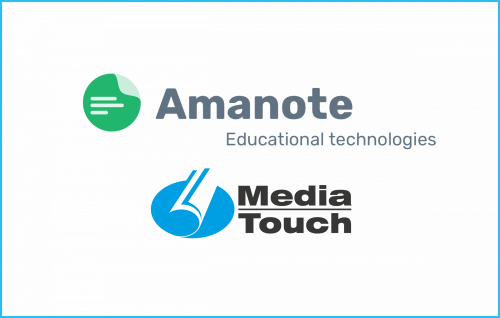 MediaTouch is pleased to present Amanote, the app that allows students to take notes, which can be integrated into Moodle.
Taking notes is one of the most important elements in optimizing the learning process of students.
The quality of notes and a student's success are almost always mutually inclusive.
Taking notes could be one of the most important skills a person can develop during university. Help students gain a deeper understanding of academic material and assimilate it.
With Amanote, students take notes in context so they can focus on memorizing only what is really important to their personal learning process.
Join our webinar to discover all the features of Amanote!
Join us on Wednesday 14 September at 11 on Zoom.
Register here: https://us02web.zoom.us/webinar/register/WN_SqSz3S7JQjiGC-Gs0GXN4w
AGENDA
11:05 – 11:10: Welcome and intro – Andrea Bicciolo, Director of Technology @ MediaTouch
11:10 – 11:30: Intro to Amanote and product demo – Antonello Di Muro, International Business Developer @ Amanote
11:30 – 11:45: Q&A e farewell