In July 2021, the first course for the Public Administration on Digital Skills was launched, carried out by MediaTouch as part of TIM's Digital Risorgimento Project. The project aims to reduce the cultural digital divide in the country and it is totally free and accessible to any user upon registration. It was created by TIM in collaboration with the European Commission by joining the Digital Republic initiative promoted by the Department for Digital Transformation of the Presidency of the Council of Ministers. The project has many partners specifically Gruppo Maggioli with MediaTouch.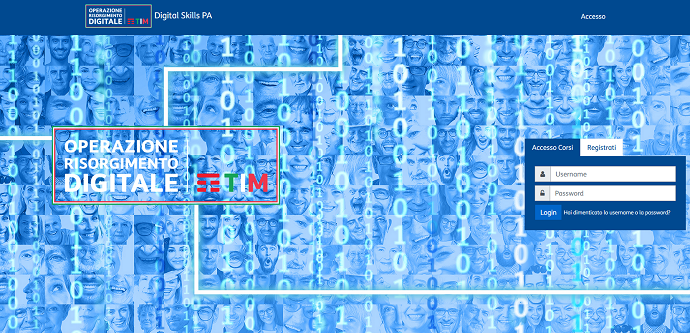 MediaTouch actively collaborated in the project by creating an e-learning course site for the Public Administration to implement employees' Digital Skills and to offer additional tools to increase their digital skills and train new ones.
The site includes courses for three specific sectors: Metropolitan Cities and Municipalities, School Administrations and Health Administrations. Each course consists of four modules lasting approximately one hour each and each modules has different elements (video lessons, in-depth videos on specific topics, tutorials, interviews, in-depth handouts and tests). At the end of the fourth module there is a final questionnaire, which allows you to access the certificate of participation and a digital badge.
In July, the first course "Digital transformation – Metropolitan cities and municipalities" was launched with more than 1000 students. The other two courses for School administrations and Health administrations will be launched shortly. The available courses have been conceived and designed by the digital PA of the Maggioli Group.
MediaTouch is proud to have taken part in a socially impacting project such as that of "Operazione Risorgimento Digitale", which aims not only to provide free additional skills to public employees, but which makes these skills an important asset for the whole community.